Secondary Air Injection Bypass Kit Comparison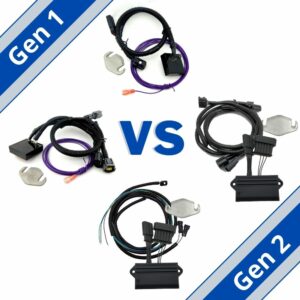 How Do You Fix the Secondary Air Injection System?
The most expensive option is having Toyota or Lexus repair with factory or OEM components. On average, most dealerships quote $2,000 to $3,000 for parts and labor. However, this option may not address all secondary air components or prevent future failure. Save time and money by bypassing the secondary air injection system instead of replacing it.
Hewitt Tech bypass kits come in two generations: Gen 1 and Gen 2. When deciding which kit is best for you, please note that our solutions are vehicle specific and error code specific. That said, compatibility depends on your vehicle's year, model, and engine size. Additionally, the error codes that are present will play a factor in bypass kit selection and will help determine if you need any kit add-ons.
It is also important to understand that Gen 1 and Gen 2 bypass kits operate differently and address different subsets of SAIS fault codes. Please also be aware that installation varies according to engine size and bypass kit selected. After reading this article, we encourage you to use the "Search By Vehicle" feature on our website to find compatible bypass kits. Individual product listings will provide further details.
The Gen 2 is Hewitt Tech's most comprehensive bypass kit and the best solution to address or prevent secondary air injection system failures. Unlike the Gen 1 bypass kit that only manipulates the operation of the SAIS, the Gen 2 bypass kits fully emulate it. Why is this an advantage?
First, the Gen 2 can address mechanical and electrical SAIS fault codes, limiting the potential need for kit add-ons. Secondly, the Gen 2 is compatible with Toyota's most recent ECM flashes and recalibrations, including ECM programming for Flex Fuel models. Lastly, since the Gen 2 emulates the SAIS, monitors will show as ready and complete. The Gen 2 bypass kits will include block off plates to prevent future damage of pressure sensors by exhaust.
There are two variations of the Gen 2 Bypass Kits.
Compatibility: Most Toyota and Lexus Vehicles (2005 – Current)
This kit offers a complete Plug & Play installation with connectors that are compatible with the vehicle's factory components. Its harness connects to the air injection drivers (AIDs), the air switching valves, and the factory harness. The Gen 2 (Plug & Play) bypass kit is Hewitt Tech's most recommended solution because it simplifies installation and offers the most comprehensive SAIS code coverage.
Compatibility: Select Toyota and Lexus 4.7L Vehicles (2005 to 2009)
The 3 Valve Gen 2 bypass kit is for specific vehicles with 4.7L engines. The entire SAIS on these vehicles is located underneath the manifold. The 3 Valve kit provides the same code coverage as the Plug & Play kit, however, it offers Plug & Play and wired installation. The Plug & Play portion of the harness connects to the AID and vacuum switching valve (VSV) factory harness. The wired portion runs through the firewall and taps in to the factory harness at the ECM. If you are not comfortable with soldering or tapping in to the factory harness at the ECM, we recommend professional installation.
Our basic bypass kit, the Hewitt Tech Gen 1 prevents operation of the SAIS at cold soak start. It enables you to clear the check engine light, "limp mode" and error codes related to mechanical SAIS faults. The Gen 1 bypass kit is compatible with most Toyota and Lexus vehicles manufactured from 2005 to 2012, as well as select vehicles manufactured in 2013. It's made with automotive-grade materials and is designed to blend in with the factory wiring harness.
This bypass kit includes a module, a harness, block off plates, and a starter relay wire. The starter relay wire, which is only available from Hewitt Tech, ensures that the module actively prevents the SAIS from running on every start. The Gen 1 bypass kit is NOT compatible with Flex Fuel models or vehicles with certain ECM reflashes.
There are two variations of the Gen 1 Bypass Kits.
Compatibility: Most Toyota and Lexus Vehicles (2005 to 2007)
The Gen 1 (V36H) is a product of Hewitt Tech's original SAIS bypass kit. This design gave Toyota/Lexus owners the first viable alternative to expensive repairs for the failure prone SAIS. The Gen 1 (V36H) is a tried-and-true product that has been installed on thousands of vehicles since 2014. Without a doubt, it's one of our most popular solutions because of its easy installation and competitive price point.
Compatibility: Most Toyota and Lexus Vehicles (2008 to 2012) & Select 2013 Vehicles
What makes the Gen 1 (V54) bypass kit different than the Gen 1 (V36) bypass kit? In 2008, there was an update to the computer programming that affected SAIS operations. This update necessitated a new module requiring two harnesses that installed at the air intake temperature (IAT) sensor and the engine coolant temperature (ECT) sensor.
Our competitors have not taken this update into consideration with their kits, which is why you would see the error code P011B – Temperature Correlation Error after installing a competitor's kit on vehicles manufactured in or after 2008. You would also see this error code when installing our Gen 1 (V36) in the same vehicles.
Which Bypass Kit is Right For You?
There are a few factors that will help you decide on the best solution for your vehicle. First, determine which kit is compatible with your vehicle based on your vehicle's year, model, and engine size. Next, know the error codes.
If you are only tripping mechanical codes, then the Gen 1 bypass kit may be a good option. However, if your codes are electrical, the Gen 1 bypass kit requires add-ons to address those codes. In this case, the Gen 2 would be a better choice because it covers mechanical and electrical error codes.
You will also want to take installation into account. Plug & Play bypass kits include Gen 1 (V36H), Gen 1 (V54H), and Gen 2 (Plug & Play). These kits, which can be installed with basic tools and no technical knowledge or skill, were designed with the DIY mechanic in mind. If you change your oil and tires, you can install these kits.
Hewitt Tech also offers the Gen 1 (V36W) and Gen 2 (3 Valve) bypass kits, which require tapping wires into the factory harness. Installing these bypass kits is a little more involved, so you should seek professional installation if you're uncomfortable with soldering or tapping into the factory harness.
In conclusion, Hewitt Tech recommends the Gen 2 bypass kit as it's the most comprehensive and advanced bypass kit. If you want to get out of "limp mode," turn off your check engine light, avoid future failures, and save thousands of dollars, the Gen 2 bypass kit is for you.
Additional Secondary Air Injection Resources
To learn more about the purpose, components, and fault codes of the secondary air injection system, click on the following "Must Read" Hewitt Tech blogs:
Contact Us
If you have questions about compatibility or the solution that is best for you, do not hesitate to contact us. You can reach Customer Service and Technical Support at (844) 307-7671, Monday through Friday from 8:30 a.m. to 5:00 p.m. ET. Feel free to send us a message through our Contact Us page. Hewitt is here to help.
Disclaimer
Hewitt Tech's SAIS bypass kits and products are sold for off-road, competition, or other emissions-exempt vehicles only. It is illegal to remove, dismantle, or otherwise cause to be inoperative any pollution control device required by federal, state, or local emissions law. No other applications are intended or implied. By installing or using this SAIS bypass kit, the vehicle owner and installer acknowledges and assumes ALL risks associated with its use.