P2442 Secondary Air Injection System (Toyota & Lexus)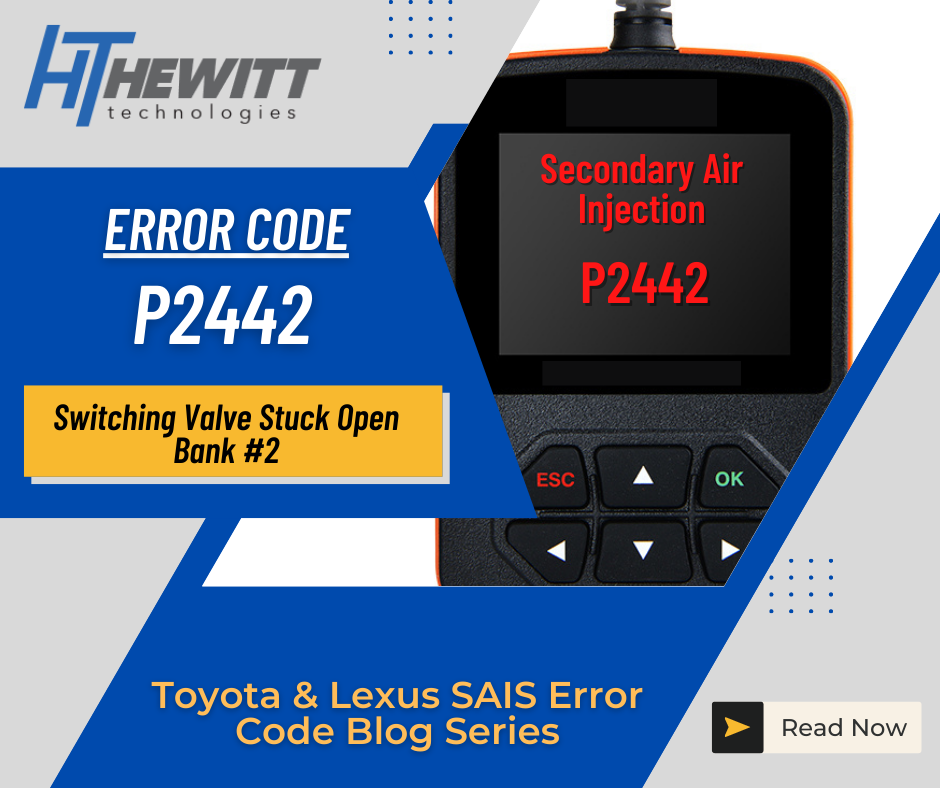 The SAIS Code Series Blog is written and intended for Toyota & Lexus Vehicles
If you are reading this article, you already know the Secondary Air Injection System on Toyota and Lexus vehicles is failure prone. The Secondary Air Pumps and Air Switching Valves are notorious for Mechanical and Electrical fault codes. Unfortunately, the reality is not "If" these components will fail but "When" they will fail. The following is aimed to help you better understand the Mechanical error code P2440 and what can be done to address it.
Diagnostic Trouble Code (DTC):
P2442 – Secondary Air Injection System Switching Valve Stuck Open Bank #2
What Does P2442 Mean?
Typically, P2442 is tripped because the Bank #2 Pressure Sensor detects pulsation of exhaust gas despite ECM commanding the Air Switching Valve to close. Meaning the Switching Valve is Stuck Open. However, there are other circumstances and conditions that can cause P2442 which will be further explained below.
How to Fix P2442
The most expensive option is having Toyota or Lexus replace the Bank #2 Air Switching Valve with Factory/OEM Components. On average, most Dealerships will quote between $2,000 – $3,000 for parts and labor. Depending on your engine size, you may need to replace both Air Switching Valves and could involve removal of the intake. However, replacing the Air Switching Valve only partially addresses the Secondary Air Injection System and even worse may only be temporary. This option does not prevent the other Air Pumps or Valves from failing or even guarantee the new Air Switching Valve from failing again in the future.
The most comprehensive and cost-effective solution is the Hewitt Tech Bypass Kit. Our Secondary Air Injection System Bypass Kits and Kit Addons are engineered to address multiple types of fault codes across entire Secondary Air System. Additionally, the "Plug and Play" design is compatible with the factory harness which mean you will not have to remove the intake. That said, if you want to get out of Limp Mode, turn off your Check Engine Light, avoid future failures and save thousands of dollars; a Hewitt Tech Secondary Air Injection Bypass kit is what you need.
There is one last option we would like to warn you against. DO NOT, I repeat, DOT NOT replace Secondary Air Injection components with cheap aftermarket parts. An initially attractive choice, aftermarket parts will end up costing you more in time and money in the long run. These components are more failure prone then the factory parts. It is not uncommon for them to fail a few weeks or months after installation. This is largely due to the poor-quality materials used to make them and it is not unusual to have aftermarket parts warrantied 2, 3 or even 4 times because codes return.
What Causes P2442?
The primary reason for P2442 is Mechanical failure of the Air Switching Valve. Many factors contribute to this failure including moisture entering the system, debris from Air Pump, carbon build up or general wear and tear. Any one of these can lead to the Valve being "Stuck Open". There is also the potential for intermittent valve codes due to extremely cold weather conditions. This can affect operation of the Air Switching Valve and will usually resolve itself once the vehicle or the weather warm up.
However, in addition to Mechanical failure, there are several other reasons P2442 can be tripped. This includes damage to the; Pressure Sensor, Air Injection Control Driver, ECM or factory wiring harness and connectors. If the P2442 code can no longer be cleared, then damage to one of these components is most likely the cause. This can make troubleshooting difficult and frustrating because simply addressing the Air Switching Valve will not resolve the issue even though that is what the error code is indicating. Please note to address a P2442 caused damaged pressures sensors, will need the Pressure Sensor Kit Addons in addition to the Bypass Kit.
Lastly, if aftermarket parts were installed on the vehicle this could also be the root cause of P2442 error code. This can be the case if the valve has failed mechanically or if Pressure Sensor located inside the valve is no longer reading accurately. Both scenarios are common because again these parts are garbage. That said, if aftermarket parts are installed on the vehicle there is a very good chance P2442 could still be present after installation of our Bypass Kit. A Pressure Sensor Kit Addons would then be needed to address.
WARNING:
Repeatedly clearing P2442 and continuing to drive the vehicle with a" Valve Stuck Open" code can cause damage to the Pressure Sensor. Further neglecting this code can even result in damage to the ECM.
Relates Error Codes
Mechanical:
P2440 – Secondary Air Injection System Switching Valve Stuck Open Bank #1
P2441 – Secondary Air Injection System Switching Valve Stuck Closed Bank #1
P2443 – Secondary Air Injection System Switching Valve Stuck Closed Bank #2
Electrical:
P0412 – Secondary Air Injection System Switching Valve "A" Circuit
P0415 – Secondary Air Injection System Switching Valve "B" Circuit
Additional Secondary Air Injection System Resources
To learn more about the purpose, components and other fault codes of the Secondary Air Injection System; click on the following Must Read Hewitt Tech Blogs links.
Contact Us
If you have any questions about our solutions do not hesitate to contact us. You can reach Customer Service and Technical Support at (844) 307-7671 Monday thru Friday 8:30am – 5:00pm ET. Or feel free to send us a message through our Contact Us page. Hewitt is here to help.
Disclaimer
Hewitt Technology's SAIS Bypass Kits and products are sold for off-road, competition or other emissions exempt vehicles only. It is illegal to remove, dismantle or otherwise cause to be inoperative any pollution control device required by federal, state, or local emissions law. No other applications are intended or implied. By installing or using this SAIS Bypass Kit the vehicle owner and installer acknowledge and assumes ALL risks associated with its use.